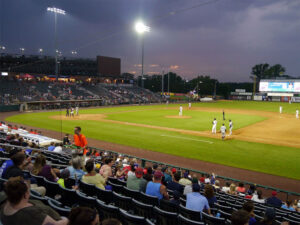 Dozens of Arsenal grads who played minor league baseball last year have been forced by the pandemic to sit out this season. Several of these players including first-rounder DL Hall (LHP, Baltimore Orioles) and high draft Tony Locey (RHP, St. Louis Cardinals) were on the MLB rosters going into spring training with legitimate shots at making the big club. If an MLB team started a player on the short season roster it would cost the club a year of arbitration so many of the teams replaced their big prospects with other career organization guys. Hopefully, if the MLB squad is still in the running now they will begin calling up some of our guys. They have already called up Rob Kaminsky(LHP, Cardinals), who has pitched really well, and hopefully, they will call up a lot more of our guys. While Mr. B was in the hospital Coach Mike Murphy took it upon himself to organize workouts for all our minor league players. He knew this summer was really important for our Arsenal guys hoping to make the big leagues. The players take fungo work, live BP, bullpens, and work on their mechanics.
Every week they usually get some scrimmages in where players are seeing pro pitching every at-bat. Our minor league guys help each other out and have access to the latest space-age strength training programs that Arsenal and I believe only the Dodgers have access to. Our W.Va. Wheelhouse Arsenal has recently completed its own lab with this same "miracle equipment." Many other Delaware Valley minor league players have now joined the Arsenal workouts and I am sure many of our guys will be surfacing on TV before the season ends!!
Any minor leaguer who would like to join our workout group should contact Mr. B.or Coach Murphy. 609-929-8133. There is no charge and it may be a game-changer !