Arsenal USA is proud to announce the Hit Doctor® Baseball Goal Book ©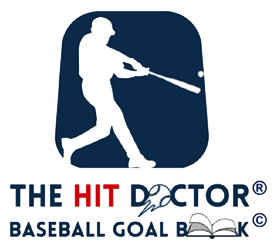 What is the Baseball Goal Book ©?  
A comprehensive workbook where we create an individual development plan for each player to achieve his genetic potential for baseball over an extended period of time.
It begins with an assessment of where the player is at this exact time. Then he or she sets Long-Term and Short-Term Goals for where they would like to be.
The Hit Doctor® Baseball Goal Book© is not just another logbook. Your coach can monitor, be alerted and moderate your success plan on a regular basis. Combined with periodic testing coaches can see exactly what each player on the team is doing every day and see that their plan is working.
Why does it work?
Makes coaches, instructors, and players accountable
Makes Baseball and Drill Work measurable
The life's work of legendary coach Joe "The Hit Doctor ® " Barth
Regarded by many pro and college coaches as one of the finest hitting instructors in America today, Joe Barth has worked with hundreds of thousands of hitters across the country.
The "Hit Doctor ®" has used his unmatched expertise, along with this Baseball Goal Book © to send over 50,000 players onto college baseball as well as over 200 players to MLB, including Angels great Mike Trout.
If you are player who is serious about taking your Baseball game to the next level or beyond, you owe it to yourself to check out the Baseball Goal Book © today!
For More Information on how to get your Baseball Goal Book©, please visit https://baseballgoalbook.com/