Kevin Welsh Ready To Lead the Rutgers Scarlet Knights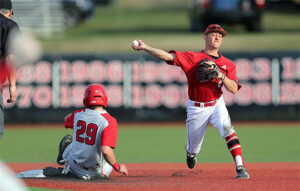 The Rutgers U ( New Brunswick ) Scarlet Knights open their Big Ten Conference season on March 4th in the Minnesota Vikings Dome with a lot of veteran players and a new Head Coach, Steve Owens. The Knights welcome several strong junior college pitchers to add to an already strong team and fully expect to be a contender in the always tough Big Ten. Two former Arsenal players are being counted on heavily this year while another, Tim Dezzi, recovers from an injury.
Rutgers will not be playing any non-conference games this year in an effort to complete the full Conference schedule. Opening weekend will find outfielder Mike Nyisztor and shortstop Kevin Welsh taking the field against both the U. of Minnesota for two games, as well as the U of Indiana for two.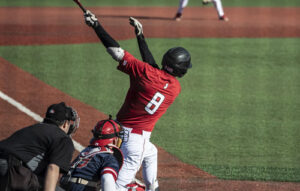 Nyisztor came to Rutgers as a shortstop out of high school but has found a spot in the starting lineup as an outfielder. Mike always had a quick bat and his versatility gives the new coaching staff a lot of versatility when needed. Mike is a solid defender pretty much anywhere you put him. Shortstop/ second baseman Kevin Welsh is one of the top players in the Big Ten. A four year starter the switch-hitting middle infielder is hoping this season will propel him into the MLB draft. Kevin is looking forward to a fast start after Rutger's season was cut short last year after 13 games due to the pandemic. A strong student Kevin has two Majors at Rutgers U., Sports Medicine Management and Labor Studies. The slick fielding Welsh was also named two years in a row to the Conference All Academic team.
Arsenal USA Founder and Head Coach Joe Barth feels that Welsh was one of the true leaders on the Arsenal teams that won so many Perfect Game National Championships a few years ago. " Great leaders are very hard to find nowadays and Kevin is definitely special in that regard. He hits, steals bases, and is a magician with the glove but his attitude , work ethic and leadership skills are off the chart! I really want to see him get a chance to play pro baseball. He deserves a shot!"